Perseverance, Persistence and Progress: Women's Impact on Politics in PEI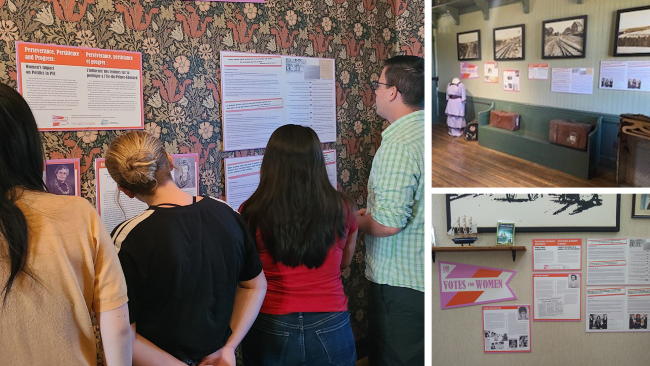 On display at all seven sites!
May 3, 2022, marked a century since some Island women obtained the right to vote in provincial elections. In recognition of this landmark event, a photo exhibition about women's suffrage in PEI is on display at the Charlottetown Library Learning Centre. 
The 1922 decision did not award every Island woman the right to vote. Indigenous people - including Indigenous women- did not obtain the right to vote in federal and provincial elections until 1960 and 1963, respectively. The May 3, 1922 victory was just the first step of many down a path we're still actively travelling. The exhibition features the experiences of Island women from all walks who have contributed to our political landscape. Some of the women featured in the exhibition include:
Hilda Ramsay: The first woman in PEI to run for a seat in the provincial legislature
Mary Bernard: The first woman to be Chief of the Mi'kmaq on PEI
Elsie Inman: Advocate for woman's suffrage on PEI and the first Island woman appointed to the Senate of Canada
Charlotte Sullivan: A woman landowner who owned the largest PEI land estate of any non-resident landowners
Dorothy Corrigan: The first and only woman mayor of Charlottetown
Anne Marie Perry: represented PEI on the Canadian Advisory Council on the Status of Women and directly impacted the lives of all Canadian women as a member of the council's Pensions Reform Committee
Alice Mitchell: A Mi'kmaw woman whose courageous stand against the federal government and colonial landowners led to the establishment of the Rocky Point Reserve in 1913
Peggy (Sark) Rydzewski: An advocate for the rights of the Métis, non-status and status Indigenous off-reserve communities
Mona Wilson: Healthcare advocate and the first Provincial Supervisor of Public Health Nursing in PEI
Margaret Bernard: First ever Chief of Abegweit First Nation
Jean Canfield: The first woman elected to the PEI Legislative Assembly
PEI's Famous Five: Five Island women who made PEI and Canadian history when they simultaneously held the top five legislative positions in the province. They include Nancy Guptill, Pat Mella, Elizabeth Hubley, Marion Reid, and Catherine Callbeck
Past Exhibits
Unearthing the Past: Archeological Discoveries of Prince Edward Island
Le français suit
On display at the Acadian Museum of PEI
Unearthing the Past: Archeological Discoveries of Prince Edward Island is a multi-sensory exhibit that digs deep into over 300 years of Acadian and Mi'kmaq cultural history in PEI. The exhibition showcases artifacts uncovered at four Island dig sites, including Pointe-aux-Vieux, Havre-Saint-Pierre, Nikani-ika'taqank and Pitawikek. 
Currently on display at the Acadian Museum of Prince Edward Island, the exhibition features artifacts like pieces of pottery, sewing needles, cooking tools, and remnants of shellfish and vegetation. 
Fouiller dans le passé:
Des découvertes archéologiques à l'Île-du-Prince-Édouard 
Cette exposition multisensorielle plonge dans plus de 300 ans d'histoire culturelle acadienne et mi'kmaq à l'Île-du-Prince-Édouard. On peut y voir des artefacts découverts dans quatre sites de fouilles de l'Île : Pointe-aux-Vieux, Havre-Saint-Pierre, Nikani-ika'taqank et Pitawikek. 

Rendez-vous au Musée acadien de l'Île-du-Prince-Édouard pour voir des morceaux de poterie, des aiguilles à coudre, des outils de cuisine, des restes de coquillages et de végétation et d'autres artefacts intrigants. 
 

Cabinet of Killer Curios
Have you ever wondered what dangers lurked behind all that Victorian splendor? Or have you heard the tale of a missing coffin carrying a famous actor? How about the gruesome history of the barber pole?
Join us, if you dare, for the Cabinet of Killer Curios exhibit at Eptek Arts & Culture Centre from October 8th to 31st. This Halloween-inspired exhibit is perfect for the history lover and the lovers of all things creepy and features the most chilling items from our collection.
Admission is by donation. Receive a free guided tour from our knowledgeable Eptek staff. Hours of operation are Tuesdays to Friday from 10 a.m. to 4 p.m. and Sundays from 12 p.m. to 4 p.m.