Eptek Art & Culture Centre Events and Exhibits
Exhibits
Quilts of Covid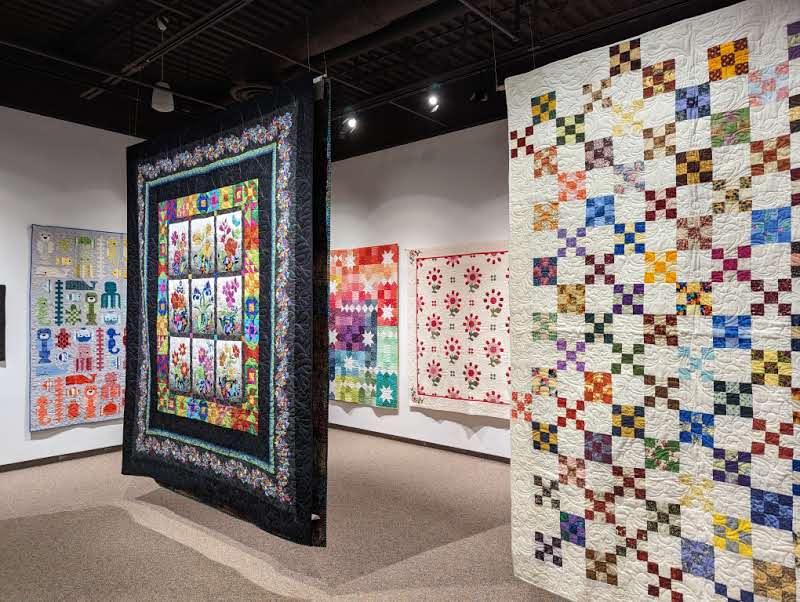 On display for until September 2023, the Kindred Spirits Quilt Guild will be showcasing their exhibit Quilts of Covid, a delightful collection of quilts and fabric creations that would not have been completed but for the gift of time provided by the Covid-19 pandemic. The Kindred Spirits Quilt Guild embraced the freedom to work on unfinished fabric treasures.
The result is a joyful explosion of fabric art creations – beautiful and memorable quilts that have become an unexpected and positive outcome of difficult days. Featuring over forty quilts, Quilts of Covid offers up a feast of visual quilting delights and provides a glimpse into the historic significance of the many needles that moved across Prince Edward Island in the 2020s. The exhibit will be on display over the course of the summer.
Events/Activities
Gallery Games
Looking for something fun and educational to do with the kiddos (or adults)? Eptek Art & Culture Centre is offering scavenger hunts that relate to the exhibitions on display. These are available to folks who drop-in to the site, but you may wish to call ahead. Keep an eye out on Eptek Centre's Facebook and Instagram pages for more upcoming activities. 
Workshops
This summer, we are excited to introduce Wednesday Workshops at Eptek! Every Wednesday at Eptek in July and August, we will be hosting a different artist-led workshop. Visitors are welcome to view the live demonstration happening; however, registration is required to participate, and spaces are limited. Our line-up for August includes:
August 2nd – Fat Birds Watercolour with Jen DesRoche ($25 per person);
August 9th - Wet-on-Wet Watercolour Painting with Karen Fullerton ($40 per person);
August 16th - Linocut Printing with Sheila Forsyth ($30 per person);
August 23rd - Acrylic Painting with June Ellis ($35 per person);
August 30th - Three-dimensional Needle Felting (Gnomes and Animals) with Vivian Aho ($40 per person)
Eptek will also be hosting two 2-day Sea Glass & Stained-Glass Workshops with Lynne Provance. In these workshops, participants will design and make their own 6x6" sea glass and stained-glass art piece, with expert guidance and assistance from glass artist Lynne Provance. The workshops take 5 hours total, split across two days (2hrs and 3hrs). We will be offering this workshop twice: the first workshop is taking place on August 1st and 3rd, and the second workshop will be on August 8th and 10th. Registration is $175 per person, and there are only 4 spaces available in each workshop. 
For more information or to register call 902-888-8373  (or visit us online at www.peimuseum.com, facebook.com/EptekCentre, and instagram.com/eptek.centre).
Gift Shop
The on-site boutique is stocked with Prince Edward Island made crafts and visual art including work by artists Henry Purdy, Lise Genova, Lucie Bellemare, P. John Burden, Sandi Komst, Joan Savage, Doreen Huestis, and more.