Furniture of Prince Edward Island
The material history of Prince Edward Island furniture is based on the self-sufficiency of many Mi'kmaq, Acadian and British settlers in the early years of colonization. While some pieces were imported from Europe, many others were crafted from local materials to meet the practical needs of settlers. The Prince Edward Island Museum and Heritage Foundation's collection of local furniture ranges in construction and design from the 18th to 20th centuries and demonstrates a close correspondence to the social and economic factors affecting these people.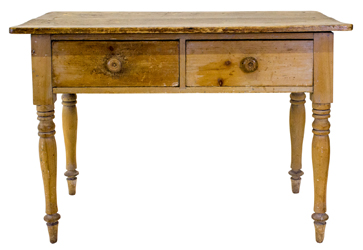 Many early settlers were required to adapt their skills and trades to suit the needs of their new rural environment. Each community had their own skilled carpenter with the knowledge and tools to construct essential furniture. Early Island furniture is often regarded as "vernacular," and is loosely defined as made by local craftsmen of locally available materials to meet immediate domestic needs. Many of the vernacular pieces within the PEI Museum and Heritage Foundation's collection demonstrate these qualities and show a clear understanding of local lumber available to cabinetmakers at the time. Species most commonly used for furniture construction were eastern white pine, yellow birch, maple, pine, ash, as well as spruce and hemlock.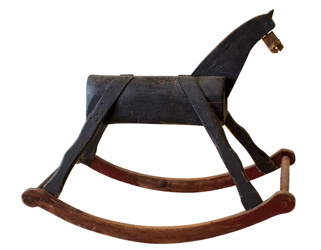 Few furniture examples survive prior to the Acadian Deportation (1758-59), but elements of those lost specimens, combined with influences from the French and Quebec furniture which many returning Acadians brought with them after the dislocations, can be seen in furniture crafted during the later 18th century. By the mid-19th century these Acadian styles were inspired by furniture made or imported by local British and American Loyalist settlers and elements of these English, Irish, Scottish and American models were translated by Acadian cabinetmakers, and vice-versa.
Two local cabinet makers producing furniture as part of their late 18th century business enterprises were Benjamin Chappell and Loyalist, Samuel Bagnall, both recent migrants. Benjamin Chappell was a well-known wheelwright, originally from London, England, who moved to Prince Edward Island in 1774. In what is considered to be one of the Island's oldest extant diaries, Chappell documented in detail his business constructing local houses, Windsor style chairs, and a significant number of spinning wheels.   Bagnall's trade was similarly varied and one of his desks is on display in the Government House collection.
Advertisements in local newspapers from the early 19th century suggest cabinetmakers were often in search of large quantities of lumber. Imported exotic woods like mahogany, ebony and rosewood were used in combination with local timber. For the sake of economy, these were used as veneers while less expensive, yet durable local wood, made up the carcass. Often locally sourced wood was also carefully stained and grained to imitate those exotic woods and was commonly known as "poor man's mahogany".  Many local cabinetmakers took inspiration from the fashionable English designs of Hepplewhite, Chippendale, and Sheraton, all of whom published pattern books which would have been available to local craftsmen. By adapting well known styles for the regional market, local cabinetmakers created a second-wave for such trends, utilizing local and imported materials in new and diverse ways.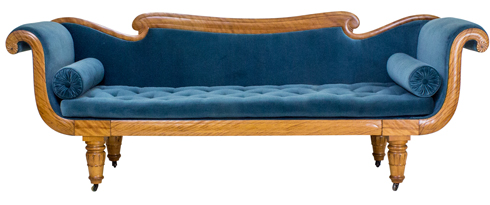 Among the 19th century cabinet makers of PEI, Mark Butcher is known as one of the most prolific. Having opened his own factory in 1835, Butcher crafted a range of goods from butlers' trays to church furniture, with prices ranging from $15-$400. His factory employed 40-60 men including joiners, chair makers, carvers and turners, as well as departments for upholstery, varnishing and for caskets. Known for making some of the finest in the region, his furniture was sold in New Brunswick and Newfoundland, as well as in two Island branch stores located in Georgetown and Cardigan. 
Butcher also imported furniture from outside the province in order to supplement his own high-end products. Some of the finest houses in Charlottetown were outfitted with sets of Butcher's furniture, including Government House, Province House and some of the well-known shipbuilding households belonging to James Peake, James Yeo and William Douse. Many of the Butcher pieces within the PEI Museum and Heritage Foundation's collection demonstrate a re-interpretation of popular styles while maintaining distinctive craftsmanship. The range of cost as well as wares Butcher offered created levels of accessibility to his products, allowing the middle class to emulate the furnishings of many of the richest households.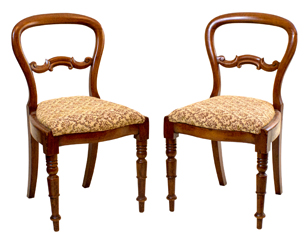 The "home-manufactured" era of furniture on PEI peaked in the mid-19th century and corresponded to economic prosperity in the region. During this period several other well-known cabinetmakers established factories to meet increasing local demand for furnishings. Charlottetown boasted factories run by John Newson, Mark Wright and the Dogherty brothers, who are known to have provided furnishings for both Province House and Government House, the residence of the Lieutenant-Governor. Based out of Georgetown, the Wilt family became well known as chair-makers and adapted the typical Sheraton-style 'fancy' chair to a regional level such that this Windsor-styled adaptation is locally known as a "Wilt" chair. Well known factories were also established in North Tyron by the Alexander Morrison and by William Chisholm and H.A. Compton in Summerside.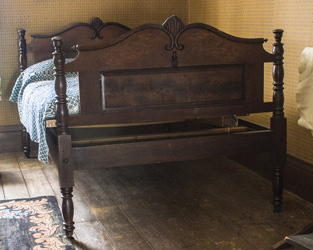 In their 1973 article, Irene Rogers and Ruth MacKenzie note the historical significance of furniture making in the province, stating: "Nature, in our beautiful wood, and man with his skill have combined to create treasures for our use and appreciation."  The PEI Museum and Heritage Foundation's collection of furniture highlights the skill and capability of Island cabinetmakers comparable to the furniture factories of European and North American.  Items made of imported wood, or which were imported themselves, also play an important role in the collection by demonstrating the social and economic levels reached by some at this time.  In contrast, even the most basic of furnishings demonstrate great tool skill and knowledge of construction.  Many examples of Island made furniture can be seen on display across the PEI Museum and Heritage Foundation's seven sites including, Beaconsfield Historic House, Yeo House at Green Park, the Acadian Museum and Orwell Corner Historic Village.
View images from the Furniture Collection. 
References/Additional Reading:
Ada MacLeod, 1930, The Oldest Diary on Prince Edward Island (PDF)
Catherine G. Hennessey, 1980, "Prince Edward Island Heritage Foundation", in Material Culture Review, Vol 11
2008, "Furniture at Fanningbank: A Story of Survival in PEI", in Ornamentum
Irene Rogers, 1982, "Cabinet Making in Prince Edward Island", in Material Culture Review, Vol 15
Irene Rogers and Ruth MacKenzie, 1973, "Furniture Making on Prince Edward Island", in Canadian Antique Collector, Vol 8 No 1.
James MacNutt and Maurice Roy, 2017, Historic Furniture of Prince Edward Island. PEI Museum and Heritage Foundation, Charlottetown, PEI.