Musée acadien de l'Î.-P.-É / Acadian Museum of PEI
Le français suit
Follow the fascinating odyssey of Island Acadians from 1720 to the present day. Discover treasures related to the Acadians' 300-year presence on Prince Edward Island. View interpretive videos, historical paintings, and see permanent and changing exhibitions which showcase the multifaceted aspects of Acadian history and culture. Investigate your Acadian family roots through the onsite genealogy resources and shop merchandise in the gift shop. Groups welcome.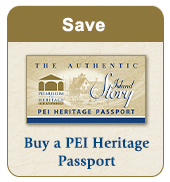 Summer Hours
July 1 to August 31
Daily 10:00 am to 5:00 pm
Fall, Winter and Spring
September 1 to June 30
Tuesday to Friday: 10:00 am to 5:00 pm
Sunday: 1:00 pm to 4:00 pm
Admission
Adult: $5.50
Senior: $5.00
Student: $4.50
Family: $13.50
Group: $4.75
School Groups: $4.00
Prices do not include tax.
During fall and winter months admission is free with donations gratefully accepted.
On Display
Unearthing the Past: Archeological Discoveries of Prince Edward Island
Unearthing the Past: Archeological Discoveries of Prince Edward Island is an interactive exhibition that digs deep into over 300 years of Acadian cultural history and over 2000 years of Mi'kmaq cultural history in PEI. 
The exhibition showcases artifacts that, until recently, were buried in the ground and uncovered at four sites across Prince Edward Island, including Pointe-Aux-Vieux (Low Point), Havre Saint-Pierre (St. Peters Harbour), Nikani-ika'taqank (Ram Island), and Pituamkek (Hog Island). See artifacts like pre-contact Mi'kmaq pottery and beads, a reliquary, clay smoking pipes, ceramics, tools, spear points and more. Wonder what a kitchen sink was like 300 years ago? We have that too! 
The exhibit also showcases the archaeology profession and displays the tools and techniques used in the field and images of the team at work. 
On display until September 4, 2022.
On display at the Acadian Museum of Prince Edward Island until September 4, 2022.
Events and Exhibits
View the Exhibitions page
Follow us on Facebook or Twitter to learn about upcoming events.
Musée acadien de l'Î.-P.-É
Revivez l'odyssée fascinante des Acadiens et Acadiennes de l'Île de 1720 à aujourd'hui en découvrant des trésors liés aux 300 ans de présence acadienne à l'Île-du-Prince-Édouard.
Faites le tour d'expositions présentant les multiples aspects de l'histoire et de la culture acadiennes, et servez-vous des ressources généalogiques pour faire des recherches sur vos racines acadiennes. Instruisez-vous en plein air en empruntant le sentier patrimonial.
Horaire – Ouvert à l'année
Été
1er juillet au 31 août
Tous les jours, 10 h à 17 h
Automne, hiver et printemps
1er septembre au 30 juin
Mar.-ven. : 10 h à 17 h
Dim. : 13 h à 16 h
Droits d'entrée
Adultes : 5,50 $

Ainés : 5,00 $

Étudiants : 4,50 $

Familles : 13,50 $

Groupes : 4,75 $

Groupes scolaires : 4,00 $
Les prix ne comprennent pas la taxe.
L'entrée est gratuite en automne et en hiver. Nous acceptons toutefois les dons avec reconnaissance.
Événements et expositions
Voir la page sur les Événements et expositions.
Suivez-nous sur Facebook et Twitter pour rester au courant des activités.
Coordonnées
Téléphone : 902-432-2880
Télécopieur : 902-432-2884
Musée acadien
Courriel : museeacadien@gmail.com
Contact Information
Phone: 902-432-2880
Fax: 902-432-2884
Acadian Museum
Email: museeacadien@gmail.com
Location
Route 2, Miscouche (west of Summerside)
GPS N46 25.944 W-063 51.936