Eptek Art & Culture Centre Events and Exhibits
Exhibits
Yield
On display until September 28 - A contemporary craft exhibition featuring artists from across PEI share their work in alignment with the nebulous theme of "yield". A word with varying definitions, "yield" can describe the act of slowing down, looking out, and watching for threats before moving ahead. It can focus on loss or surrender, relinquishing space for new voices and ideas. Alternatively, "yield" may refer to the act of cultivation, reaping the abundance that blooms as a result of your efforts.

Perseverance, Persistence and Progress: Women's Impact on Politics in PEI
May 3, 2022, marked a century since some Island women obtained the right to vote in provincial elections. In recognition of this landmark event, a photo exhibition about women's suffrage in PEI is on display at each of our seven museum and heritage sites. Be sure to visit all of our sites to see the exhibition in full!
The 1922 decision did not award every Island woman the right to vote. Indigenous people - including Indigenous women- did not obtain the right to vote in federal and provincial elections until 1960 and 1963, respectively. The May 3, 1922 victory was just the first step of many down a path we're still actively travelling. The exhibition features the experiences of Island women from all walks who have contributed to our political landscape. Some of the women featured in the exhibition include:
Hilda Ramsay: The first woman in PEI to run for a seat in the provincial legislature
Mary Bernard: The first woman to be Chief of the Mi'kmaq on PEI
Elsie Inman: Advocate for woman's suffrage on PEI and the first Island woman appointed to the Senate of Canada
Charlotte Sullivan: A woman landowner who owned the largest PEI land estate of any non-resident landowners
Dorothy Corrigan: The first and only woman mayor of Charlottetown
Anne Marie Perry: represented PEI on the Canadian Advisory Council on the Status of Women and directly impacted the lives of all Canadian women as a member of the council's Pensions Reform Committee
Alice Mitchell: A Mi'kmaw woman whose courageous stand against the federal government and colonial landowners led to the establishment of the Rocky Point Reserve in 1913
Peggy (Sark) Rydzewski: An advocate for the rights of the Métis, non-status and status Indigenous off-reserve communities
Mona Wilson: Healthcare advocate and the first Provincial Supervisor of Public Health Nursing in PEI
Margaret Bernard: First ever Chief of Abegweit First Nation
Jean Canfield: The first woman elected to the PEI Legislative Assembly
PEI's Famous Five: Five Island women who made PEI and Canadian history when they simultaneously held the top five legislative positions in the province. They include Nancy Guptill, Pat Mella, Elizabeth Hubley, Marion Reid, and Catherine Callbeck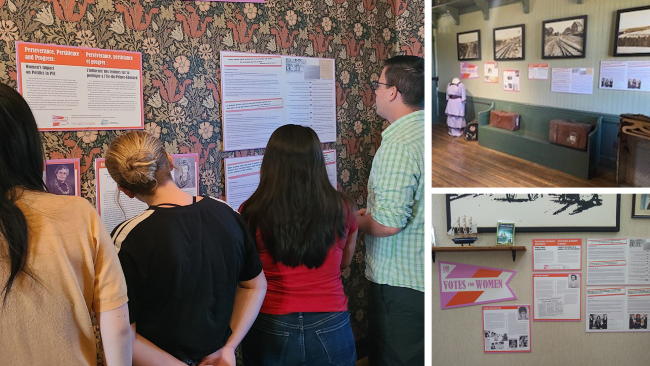 Events/Activities
Gallery Games
Looking for something fun and educational to do with the kiddos? Eptek Art & Culture Centre is offering scavenger hunts that relate to the exhibits. These are available to folks who drop into the site, but you may wish to call ahead. 
Book Club
The members of the Eptek Centre Book Club meet on Thursday, February 4th at 7pm when they will discuss the book Major Pettigrew's Last Stand by Helen Simonson. In this enchanting, humorous, and heart-warming novel set in an English village, readers discover that sometimes, against all odds, life offers a second chance. This is a free event, but attendees are asked to contact Eptek Centre or the book club organizers or register. 
Friends Holiday Treats Booklet
The Friends of Eptek Centre are known for their incredible hospitality. They are releasing a booklet featuring some of their favourite holiday recipes. It will be available at Eptek Art & Culture Centre in early December. The Friends of Eptek Centre are a volunteer group that supports the programming at Eptek Art & Culture Centre. 
Gift Shop
The on-site boutique is stocked with Prince Edward Island made crafts and visual art including work by artists Henry Purdy, Lise Genova, Lucie Bellemare, P. John Burden, Sandi Komst, Joan Savage, Doreen Huestis, and more.